[July 2-3,2020 / ZOOM] "Northeast Asia: Pitfalls and Prospects, Past and Present"
Welcome Message: Summer Symposium 2020 "Northeast Asia: Pitfalls and Prospects, Past and Present"
Dear Colleagues,
The time for our regular Slavic-Eurasian Research Center Summer Symposium has now arrived, and this year will be titled "Northeast Asia: Pitfalls and Prospects, Past and Present." Holding such events these days is, of course, complicated by the effects of COVID-19, so we are making preparations to host an online symposium using Zoom. In addition to providing a venue for members of the National Institutes for the Humanities (NIHU) Area Studies Project for Northeast Asia to present the fruits of their labors, this year's conference also offers the opportunity to hear about a new research project that surveys and analyzes archival materials on Cold-War era Northeast Asia. The Symposium will be held on July 2 and 3, Japanese Standard Time, and the program has been designed to allow our overseas colleagues, unfortunately unable to join us in person, to contribute to our discussions.
The sessions on Day 1 will largely be given over to papers from the next generation of researchers. We will also hear from a Polish researcher regarding the regional impact of COVID-19 there, and discuss what lessons this may offer for Northeast Asia. On Day 2, a debate on the structural issues that afflict Northeast Asia will be followed by a unique session looking to decipher international politics on the basis of regional archival materials. Keeping the time difference in mind, colleagues based in the Americas will join us as commentators for the morning sessions, and those from Europe for the afternoon ones.
This will be our Center's first experience at hosting this kind of "Corona" event, in which hosting the symposium online enables a small number of people present at the venue to connect and discuss the issues raised with researchers worldwide. COVID-19 is erecting barriers within many communities, but we are hopeful of being able to transcend such limits in one way or another. We look forward to your participation in our Summer Symposium.
Akihiro Iwashita (Director, Slavic-Eurasian Research Center)
            For more details, please click the poster ⇓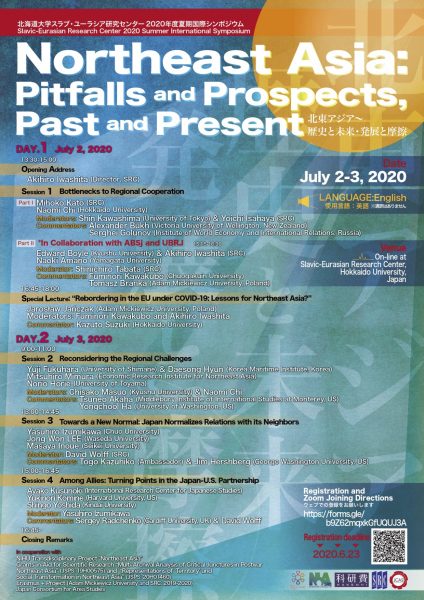 When?:  July 2-3, 2020 (JST)
Where?: Zoom. 
Cost: Free 
Register: https://forms.gle/b9Z62mqxkGfUQUJ3A 
Contact: src.webinar[at]gmail.com 
*Registration deadline is June 23, 2020.  We will send details of the papers and a link to access the
Symposium on Zoom around June 26.
[Update: June 3, 2020]